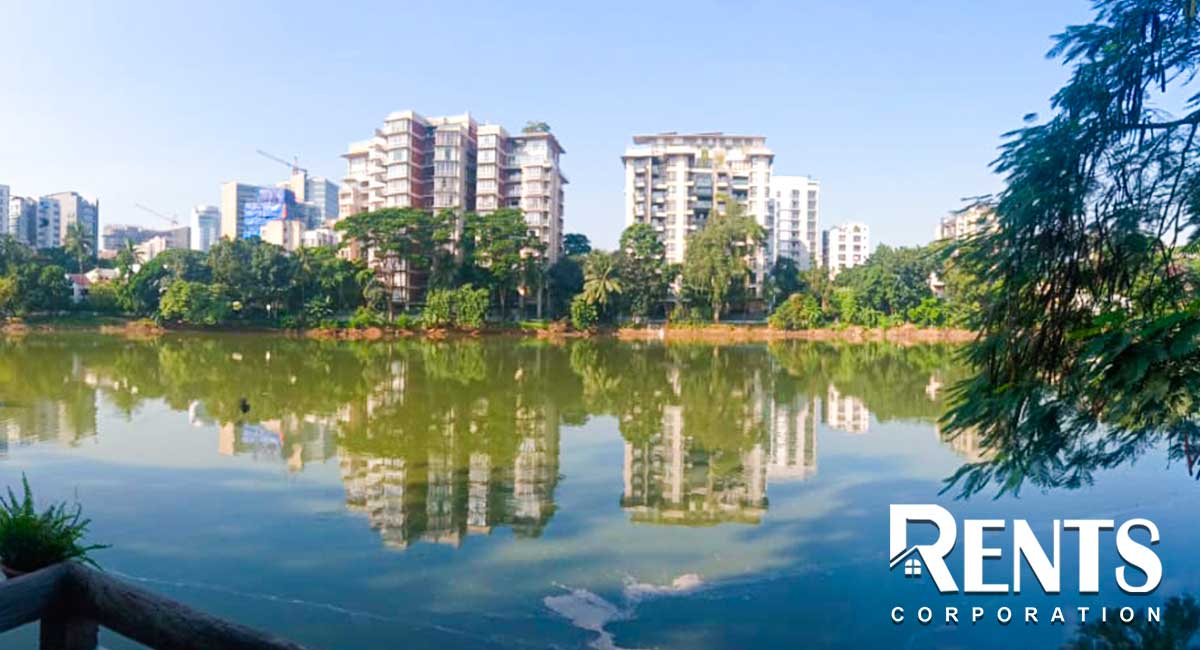 Baridhara & Baridhara Diplomatic Zone
Baridhara, situated on the north-east of Gulashan near Gulshan-Baridhara lake, is one of the most fascinating places to visit and live within Dhaka city. Though it's an attractive living place, most people don't know too much about Baridhara. Through this article, we will inform you about some important factors that you need to know about Baridhara.
You will get to know about some memorable places to visit in Baridhara, including education, medical facilities, recreation, restaurants, and shopping malls. You will get a complete overview of the Baridhara Diplomatic Zone.
Where Is Baridhara Exactly Situated?
Baridhara is located between Gulashan and Bashundhara Residential Areas. It has mainly two parts- Baridhara Diplomatic Zone and Baridhara J Block. Baridhara Diplomatic Zone is located on the west side near Notun Bazar. The location of Baridhara has made it a more desirable place to live in Dhaka. Most foreigners, tourists, successful businessmen, and celebrities live in Baridhara. Transportation service is top-notch at Baridhara.
How Secure Is Baridhara To Live and Visit?
Whenever we think about visiting an unknown place or going to shift to a new place, safety is the first thing that comes to mind. Thankfully, you don't have to worry about security and safety when you are going to shift to Baridhara. Undoubtedly, it is one of the most secure places to live in Dhaka and Bangladesh. As many businessmen, foreigners, and influencers live in that place, it has some added security compared to other places in Dhaka. So, you don't have to worry about security at all.
Alongside, the entire Baridhara is covered by CCTV cameras. If any criminal activities happen, the police will take action immediately. Fire service centers and police stations are also available in Baridhara. Overall, this place is a dream place to live it has every security element that you could expect. You will also find a check post while traveling within this place. It assures that
someone can't carry any illegal item. If anyone does so, they will get caught and chances are almost zero to escape.
5 Best Places To Visit in Baridhara
While visiting Baridhara Diplomatic Zone and Baridhara J Block, you have the opportunity to visit some excellent places and make the journey memorable. Here are some of those best places.
● Baridhara Central Mosque
Do you like to visit historical places? What can be a better option than visiting Baridhara Central Mosque? You can have a look at the past by visiting that historic place. The place is easily accessible. You can visit there by taxi or car. The best thing about Baridhara is you can easily move here and there without having any trouble. Bus, taxi, car ride-share everything is available for traveling comfortably.
● Ladies Park
You can visit Gulshan ladies' park from Baridhara as it is just nearby. Ladies can enjoy their greenery and pleasant surroundings. After a long busy day, you can get rid of worries and tiredness. The fresh air of a green environment will make your body and mind feel fresh.
● Anannya Shopping Complex
Do you love shopping? If you are visiting Baridhara for shopping purposes, the Anannya shopping complex will be one of the best places to visit in Baridhara. In this big shopping mall, you can find clothing brand stores, ornaments, jewelry, beauty products, and other necessary items. It is located on the south side of the Baridhara DOHS.
These are some of the best places to visit in Baridhara. Now, you might be wondering about the particular reasons that make Baridhara a better place to live compared to other residential areas. Want to know about those factors? Here you go.
● Baridhara Park
You can spend your leisure time in the morning and evening at Baridhara park. It's located at 9 Road No. 9, Dhaka 1212. The park has a facility for sitting and having a walk in the green environment. Also, kids can play here. The park is not restricted to certain people. Anyone can have a walk in it. It will make them feel fresh.
● Embassy of the United States of America
As I have said earlier, lots of embassies are located in Baridhara that work in favor of making improvements for an area. The embassy of the USA is also situated in Baridhara. Do you want to visit the embassy? In that case, you have to make an online appointment before you visit the place. Let me inform you that you can't take walk-in appointments.
These are some of the best places to visit in Baridhara. Now, you might be wondering about the particular reasons that make Baridhara a better place to live compared to other residential areas. Want to know about those factors? Here you go.
Top 7 Best Restaurants in Baridhara
1.The Atrium Restaurant
Do you love to eat Indian, Thai, and continental food? You can visit the Atrium Restaurant to get delicious food. You will get here appetizer beef with ginger, prawn masala, seafood, and young chow fried rice dumplings. This restaurant is open 7 days a week.
2.Cafe Delights
A nicely decorated restaurant has delicious items like sandwiches, fried chicken, burgers, and kacchi biryani. This restaurant is suitable for all sorts of people as it has a variety of items. Alongside, they offer juice, coffee, and pizza. Their behavior is also good.
3.George's Bistro
I will recommend this restaurant, particularly for burgers and pizza lovers. The taste and quality of their Pizza sandwich, salad, assorted cupcakes, and espresso Bar are up to the mark. Therefore, we have included this restaurant in Baridhara in our top 7 list. Overall, the food quality and price are pretty decent considering other restaurants in this area.
4.Crème de la Crème Coffee
This restaurant is pretty popular for its tasty coffee and Japanese food. They have a special coffee item named Mejbani Goost Coffee. If you ever visit this restaurant, you should try it. Hopefully, you will love this item. Along with coffee, they also have pasta, pizza, burger, sandwich, and hand brew desserts on their list.
5.North End Coffee Roasters (AISD)
If you are looking for the best restaurant in Baridhara for smoked chicken, we'll recommend you visit the North End Coffee Roasters (AISD). They also have some other popular and tasty foods. Some of those are red velvet cookies, cheesecake, espresso, and mocha lovers. Decoration and the way of serving their food item are fascinating.
6.Garlic 'n Ginger
This restaurant is located at Jamuna Future Park. As it is near Baridhara, that's why we have mentioned this one in our favorite list. The best thing about this restaurant is it offers Thai, Chinese, and Indian food. If you're visiting with a group of friends, all group members can choose food according to their choice. Their steak and seafood taste so delicious.
7.Cafe 4 Star
Last but not the least, The Cafe 4 star is a popular restaurant in Baridhara. They have lots of items on their menu such as seekh kebab, chicken boti kebab, chicken grill, beef Bihari kebab, biriyani, Burhani, Faluda, and Lucchi. Chicken Grill and Beef Bihari kebab is their most popular item.
Top 5 Best Hotels In Baridhara
1.Blossom Hotel Dhaka
The Blossom Hotel Dhaka comes with car parking, complimentary breakfast and pets allowance, and free Wifi facilities. Their room, service quality, behavior, and security everything is top-notch. If you want to stay in Baridhara for several days, this hotel can be the perfect match for you.
2.Heritage Kutir
The Heritage Kutir has excellent facilities such as car parking, free Wifi, laundry service, quality room service, and luggage storage. Considering their pricing, their quality is also good. You can easily access this hotel from anywhere in Baridhara.
3.Ascott Palace Dhaka
We have picked the Ascott Palace Dhaka as the third-best hotel in Baridhara. It will offer you some unique advantages like a spa, fitness center, shuttle service, parking, and free wifi. As it offers more facilities, the price is slightly higher than other restaurants.
4.Hotel Suite Palace
Are you looking for a hotel having all the required facilities at a reasonable price? The hotel suite palace can be a suitable choice for you. It comes with a concierge facility. You can ask for an online booking without any extra fees. The booking procedure is also fast and simple.
5.La Villa Western
Want to check into a hotel that will make you feel like a top-quality hotel? In that case, La Villa Western is recommended for you. You will get here a comfortable luxury room having all the necessary facilities. 24/7 front desk service is available along with the airport transfer facility.
Top Educational Institutes In Baridhara
American International School of Dhaka
The Japanese School Dhaka
The French International School of Dhaka
Which Embassies Are Located In Baridhara?
Most of the Embassies within Dhaka are located at the Baridhara. It has more than 20+ embassies. Here is the list of those embassies.
Embassy of the Republic of Turkey
Embassy of France
Embassy of the Federal Republic of Germany
High Commission of Canada
Embassy of the United States of America
Embassy of the Islamic Republic of Afghanistan
Royal Bhutanese Embassy
High Commission of Brunei Darussalam
Embassy of the People's Republic of China
Apostolic Nunciature of the Holy See
High Commission of India
Embassy of Japan
Embassy of the Republic of Korea
High Commission of Malaysia
Embassy of the Republic of Maldives
Embassy of Morocco
Embassy of Myanmar
Embassy of Nepal
Royal Norwegian Embassy
Embassy of the State of Palestine
Philippine Embassy in Bangladesh
Royal Thai Embassy
Political, cultural, and social relationships between the countries are maintained by those embassies. So, if you are looking for visa approval or traveling-related queries, you can visit the embassies and contact the authority people for the solution. You should make an appointment for that.
What Makes Baridhara A Better Living Place?
● Pleasant Ambiance
All of us want to live in such a location that will be free from pollution and offer us a pleasant ambiance. When you have a look at the major residential areas in Dhaka city, you will notice air pollution, sound pollution, and other issues. Living in such polluted places may create health issues in the long term. But if you choose Baridhara as your living place, you can offer your family a pleasant ambiance. Unlike other places, Baridhara is free from pollution. Roads and offices are constructed with proper plans.
Vehicles are restricted from making unnecessary noises with horns. You and your family can enjoy a calm environment that is rare to find in other areas of Dhaka. Factories are not available at Baridhara so you don't have to be worried about air pollution and dust particle pollution. Cleaners are assigned to clean roads regularly. You are going to get all the facilities that people expect from an ideal residential area.
● Recreation
Open areas are pretty rare to find in most residential areas. Tight schedules and busy working life make us feel bored sometimes. Recreation is also important to lead a normal happy life. When kids don't get open space to play, they spend most of their time watching TV and mobile phones. This is not good at all for kids' mental development. Is there any residential place that offers proper recreational opportunities?
Thankfully, Baridhara has proper open space for recreation and relaxation. Several parks are located in the Baridhara diplomatic zone for spending quality time. Kids can play in the fresh air. Youth and adults can take a walk and sit in the green environment. Greenfield surrounded by plants makes the mind fresh immediately. By spending some time in the park, you can get rid of your work stress. Playgrounds are available for children. You can also take a morning walk and evening walk in that green environment.
● Health And Education Center
Health and education are two basic rights of a human. When you are going to settle down at a place, you expect the place will offer you a better educational opportunity for your children. At the same time, quality hospitals are also important to get proper treatment when needed. As I have said earlier Baridhara is one of the best residential areas within Dhaka city, it offers you quality education and healthcare opportunities.
Cambrian School and College, American International School, British School of Law, and some other reputed colleges are located in Baridhara. Educational institutes are available both in Bangla and English medium. The United Hospital, probably one of the best hospitals in Bangladesh having all modern healthcare facilities is situated at Baridhara. It is located just beside the Baridhara Diplomatic Zone. Also, Senior Citizen Hospital and Evercare hospital are located in Baridhara.
● Baridhara Society
Baridhara society works for the development of Baridhara as a better living place. This type of cooperative society plays an important role in creating a bright future for residential areas. Baridhara society is marinated by Flat owners and reputed businessmen. They solve issues raised by the members and residents of Baridhara. Also, they organize cultural programs and social activities.
It improves bonding among the residents and society members. At the same, those programs and activities improve communication skills. That will be helpful in the long term. You won't get those types of facilities and cooperative environments in ordinary residential places.
● Easy To Travel
From Baridhara, you can easily travel to any area of Dhaka. Popular places like Jamuna Future Park and Army Stadium are easily accessible from here. Gulshan is just beside the Baridhara around 7-8 minutes walking distance. From the Pragati Sarani Road, you can easily travel anywhere in Dhaka. You can easily travel to popular areas like Uttara, Malibag, and Bashundara Residential Areas. So, you can feel secure about transportation. If you want to go anywhere outside Dhaka, you just need to go to Abdullahpur. From there, you can get a bus to go too far locations outside Dhaka.
Should I Buy or Rent A Flat In Baridhara?
Having a flat in Baridhara will be a smart decision. If you are looking to get settled in a place that will offer you a serene environment, planned roads, quality educational institutes, and hospitals, it will be really difficult to find a better place than Baridhara. It will offer you a modern lifestyle in a secure environment. Also, it comes with enough open spaces and cooperative societies. What more can you expect from residential areas? In our opinion, buying and renting flats in Baridhara is a good decision.
Final Words
At this point, you have got a decent knowledge of Baridhara. Do you still have any queries related to Baridhara, Baridhara DOHS, Baridhara Diplomatic Zone, or Baridhara J Block? Don't hesitate to leave your queries in the comment box. If you are thinking about getting settled in Baridhara, it will be easier for you to make the final decision.
However, do you need any assistance with Apartment rent in Baridhara or Buying a Flat in Baridhara? The Rent team is devoted to helping you with that. Contact us now and we will offer you the best flat within your budget.
FAQs
Q. Are the flats in Baridhara Diplomatic Zone exclusive to specific people?
A. No, flats in Baridhara diplomatic zone are open to all. It may be difficult for you to find the flat that you are looking for. If you want to rent or buy a flat in Baridhara diplomatic zone, the Rents team will assist you.
Q. What is the best method to buy a flat at a reasonable price in the Baridhara Diplomatic Zone?
A. Real Estate Agencies can assist you in finding and buying a flat at a reasonable price in Baridhara. We recommend contacting the Rents team for that. You can access all the latest rental listings and exclusive property listings for sale.
Q. Can I purchase a flat in Baridhara with a bank loan?
A. Yes, most banks offer home loans. You can purchase your dream flat in Baridhara with a bank home loan or any other type of loan that meets your needs.
Q. Who can assess Baridhara park and recreation centers?
A. Parks and recreation centers are open for the residents of Baridhara. There is no such restriction that allows only certain people to enter.
Q. Baridhara is located in which Thana?
A. Baridhara is located in Gulshan Thana and its ward number is 18. Baridhara residential area, Baridhara J block, and Baridhara diplomatic zones are included in that area.
Q. What is the Baridhara Diplomatic Zone?
A. When a neighborhood has modern facilities and planned institutions for its residents, it's called a Diplomatic Zone. Baridhara offers such facilities to its residents. Therefore, it is known as Baridhara Diplomatic Zone.
Q. What is the best educational institute in Baridhara?
A. The Cambrian School and College is probably the best educational institute located in Baridhara.
Q. Which is the best hospital in Baridhara?
A. The United Hospital is the best hospital situated in Baridhara. It offers modern healthcare and treatment facilities.